Great Missionary Vacation Spot . . .
November 2, 2015
Our family has been under a lot of stress the last few years, both in ministry and in our personal lives. So this year, when we were planning out our furlough back to the U.S. we were very intentional to plan in an official "family vacation".
I'm sure there were many among our supporters who thought that our furlough was our vacation, but any missionary knows that a furlough for missionaries is not a vacation. If you're like us, our "furloughs" are actually more work and more stressful than being out on the mission field. So much so, in fact, that we have taken to calling it a "home assignment" instead of a furlough.
Our "home assignment" period in the U.S. is a very busy time of traveling all throughout the United States and Canada, speaking at churches, building deeper partnerships with supporters, and trying to raise additional awareness and support for the ministry.
Home assignment is not restful!
So, in foresight, we decided to plan an official "vacation time" in the middle of our furlough and began researching different options for where to take this vacation.
After a lot of consideration we decided to take our vacation in St. Petersburg, Florida
Now, in hindsight, I can say most definitely that this was a really good decision. This location has been ideal for rest, refreshment, and rejuvenation. There are also several ministries here that have been a real blessing to us – ministries that focus on ministering to people engaged in full-time ministry and serving "those who serve".
Vacation Highlights:
We stayed at D&D Missionary Homes during our one-month stay in Florida. I can't even begin to tell all the positive things I have to say about our stay there.
The staff are all very friendly and make you feel quiet at home. The apartments were nice. I was expecting small "cozy" quarters and was actually pleasantly surprised to find the master bedroom was a decent size with lots of room even with the king-sized bed.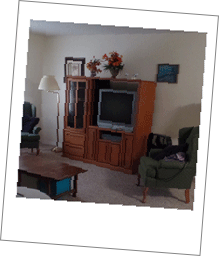 The apartments are fully furnished and the D&D staff are very efficient and quick to go out of their way to get you anything that might be lacking in the apartment or to fix anything that may not be working correctly. We had to put in a maintenance request when we first arrived because the kitchen sink wasn't draining properly. The maintenance person came over that same afternoon and had the problem resolved within half an hour.
D&D is also in a very good location. It's tucked away in a rural neighborhood where it's quiet and peaceful, but it's only a few blocks from a major highway so you don't have to go far for what you need. There was a Target, Walmart, Aldi, Dollar Store, CVS, and countless restaurants all within 5 miles of D&D.
* Playground.
D&D has a small play ground, but I was not very impressed with it. I especially did not like the fact that the entire area is covered in sand, so the kids get really dirty when playing there. Fortunately there was another playground within walking distance from our apartment which was everything we could have hoped for. Big enough to entertain kids of every age. It is well shaded from the sun with picnic spots and walking paths and just a lot of space to spread out. We took our daughter to the playground nearly every day and she never tired of it.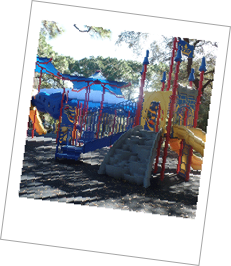 This is not a well known ministry, but any missionaries planning a visit to Florida needs to know about them! They are a ministry that provides vehicles for missionaries to use during their stay in Florida.
They also make airport trips, which was a great blessing to us. When we landed at the Tampa airport they came and picked us up. Their office is actually within the same campus area as the D&D housing, so it was very convenient.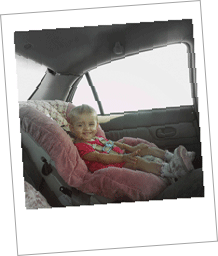 When we are ready to leave they will be taking us back to the airport again. They do not charge anything for the use of their vehicles, but we will certainly be leaving them a donation when we leave. It is the least we can do considering how much money they have saved us by offering this service. I hope they will stay in business for a long time and be a blessing to many others!
* D&D Thrift Store.
Another added bonus to staying at the D&D Missionary Homes, is that they have a thrift store right on their campus. For missionaries staying in the D&D apartments all the items in the thrift store are $1 (or $0.50 for children's clothes). They had very good quality of items in their thrift store and you definitely can't beat the price!
This is the church that we attended while staying at D&D. It is not part of D&D, but it meets each Sunday morning and Wednesday night at the chapel on the D&D property. It is an Assemblies of God church that focuses on having sound Biblical teachings without drawing attention to topics that would be controversial between different denominations.
It is a small congregation, and a very transient congregation, but we really enjoyed great fellowship and especially enjoyed attending their monthly potluck dinner and playing Bible trivia games as a group afterwards.
This church was also within walking distance of where we were staying, which was an added bonus for us. Though, there are many churches within an easy drive from D&D had we felt the desire to attend somewhere else.
When we arrived at D&D we saw a flier in our apartment advertising the services offered by Compass Ministries. They offer member care, including debriefing and counseling, free of charge for missionaries. My husband and I scheduled a debriefing session with them and arrived at our appointment uncertain of what to expect. When we left, we felt very encouraged and scheduled another session for counseling.
* Madeira Beach.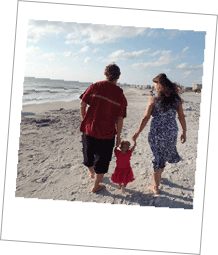 Before coming on this vacation I had a lot of people commenting
on how St. Petersburg has some of the best beaches in Florida.
Well, after being here, I'd have to say it has the best beach in
the world! I've been to a lot of beaches and used to think that
there were not to compare with the beaches of Sierra Leone,
but Madeira beach is undoubtedly my new favorite!
Madeira beach is about a 30 minute drive from D&D. The beach
we went to was right down by what is known as "John's Pass".
Our first time there was so wonderful we just kept going back.
We had considered trying out other beaches, but we never did.
I guess we just determined that this beach was "perfect", it
was everything we had hoped for in a beach, so we didn't feel
the need to explore other options.
I was kind of surprised that the beach wasn't more crowded than it was, but then, it is a very long beach, so people have a lot of room to spread out.
It is also definitely a "family friendly" beach. The water is fairly shallow, even quite a ways out, so the waves are usually calm and don't get very big. The water was really rough one day that we went, as the tide was just coming in. But even with the change in tide it was still safe enough to swim in, it just wasn't as calm and serene as at other times.
On one of our visits we went really early in the morning just to walk along the shore. That was an incredible experience. We saw all sorts of shells, a few crabs, a dozen or so jellyfish, and even a few dolphins. And one family at the beach that morning mentioned seeing a stingray in the water. I wouldn't recommend swimming in the water at that time of day, but there was certainly a lot to see as far as ocean life. There are lots of seagulls and pelicans there at all hours of the day. That was just a morning of really enjoying the beauty of nature!
Once the tide went out, though, we didn't see any more jellyfish or stingrays . . . there seems to be a strong enough undercurrent to keep those sea creatures away from shore when the tide is out.
Oh, and for those of you who are afraid of sharks (as I am!) . . . you can put you mind at rest. Most shark attacks occur on the ocean side (eastern side) of Florida, they are MUCH more rare on the gulf side (west side).
This BayNews9 website was the most helpful site I found regarding shark attack information. It shows the statistics of shark attacks in Florida, as well as safety precaution tips for those of us who may still be a little concerned.
* John's Pass.
Right next to Madeira beach is John's Pass which is a great little spot for a little tourism. They claim that there is something here for everyone, and I think they're right!
There are lots of restaurants, sidewalk shops, ice cream parlors, boat rentals, cruises, water sports, and more! There's even a pirate ship cruise!
Everything's a little overpriced, but that's to be expected in a tourist hot-spot.
One of the things we did at John's Pass was to go on the Dolphin Quest cruise. There are a couple different options for cruises for dolphin spotting, but this option had the best reviews of any and also the lowest prices.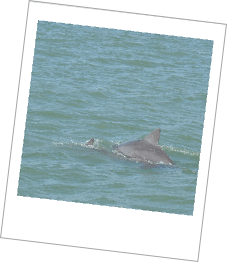 It's an hour and a half tour. The crew members were very adequate with a good sense of humor. And there were so many dolphins it's no wonder they can give a guarantee to their customers. You will definitely see dolphins on this cruise! The crew members know where to find them and they have a good eye for letting you know where to look when the dolphins are about to come up out of the water.
It was a great tour and a really wonderful experience. Apart from seeing dolphins, you also get a sea tour of the area and a little behind the scenes information and history about the houses and the famous people living in that area.
All in all, St. Petersburg, FL turned out to be a great vacation spot and we would highly recommend it to other weary missionaries!
July 5, 2016 – Please be informed that since the writing of this article, D & D Missionary Homes moved their location. They are now located in Clermont, FL on a beautiful 162 acre campus.